Lock Cylinder UZ-CX2122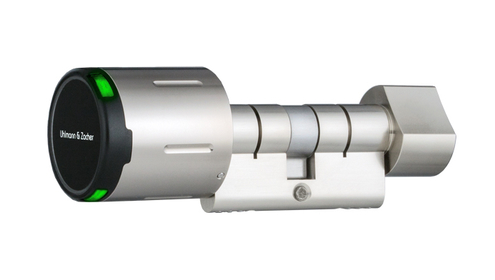 Price 453,87 € (23% VAT included)
369,00 € net price
Ask for a product
Description
---
UZ-CX2122 is an electronic cylinder with a mechanical knob for a proximity card (eg Mifare 13.56MHz) and an 868MHz radio transmitter. The device is perfect for mounting on wooden, steel and glass doors. It works in different modes (see below).
Product main features:
Integrated timer and weekly schedule
Possibility to connect to the IDS module
The switching function is possible without any additional energy consumption
Two batteries last for 80,000 cycles
Battery replacement is possible only after obtaining authorization for it
No wiring required
Modular construction
Dismantling can only be done with the dismantling card
Various lengths of profile cylinders available
Anti-panic version available
Outdoor (IP66) and indoor (IP54) versions available
Possible PVD coating in gold, anthracite and brown colors
Radio version available
Version with Bluetooth® Low Energy available
| | |
| --- | --- |
| For indoor use, IP54 | |
| For outdoor use, IP66 | |
Working modes:
Basic operations
| | |
| --- | --- |
| Installation | |
| Demontage | |
| Programming | |
| Battery replacement | |
Dimensions of the cylinder
Technical data

Dimensions
Compliant with DIN 18252 standards
Available transponders versions
Mifare Classic, Mifare DESfire 13.56MHz, Legic prime and advant 13.56MHz, EM / HITAG 125kHz, radio transmitter 868MHz
Cylinder length
From 26/26 mm and / or 30/30 mm to 200/200 mm in 5 mm steps
Dimensions of the electronic knob module
Length 42.7mm, diameter 40mm
Dimensions of the mechanical knob
Length 20mm, diameter 29mm (or 34mm)
Protection level
IP54 (inside), IP66 (outside)
Power supply
2 * CR2 3V lithium battery
Battery life
80,000 cycles
Low power opening
Możliwe zawsze przy pomocy zewnętrznego źródła zasilania

Temperature in operating mode


+ 5 ° C to + 55 ° C (internal version)

-25 ° C to + 65 ° C (outdoor version)

Storage temperature
-40 ° C to + 65 ° C

Appliance

On the inside and outside of the door (depending on version). Before installing outdoors, check the conditions there

Standard

DIN EN 60529:2014

DIN 18252:2006

DIN EN 1303:2015

2014/53/EU
Nie znalazłeś odpowiedzi na swoje pytanie?
Napisz do nas, zadzwoń lub umów się na kawę!